At our 2017 event we were blessed to have to the following presenters share their messages of hope with us. Their stories and our full program are included below.
Tribute to Joan Garro
My mother, Joan Garro, died November 28, 2012 after battling Pancreatic cancer.
Shortly after her death, I kept having vivid dreams in which my Mom told me that the world was filled with too much sadness. She instructed me to remind others that even though times can be tough, keeping God in your life will give us hope and carry us through our challenges.
The annual Night of Hope is dedicated to her.
Teresa Kopietz
The evening of "A Night of Hope" came about through a dream. The message was to create a night of inspirations and happiness. Sometimes in life, it is easier to dwell on the sad or negative things and we forget about what blessings we have surrounding us every day.
Each of us will face tough challenges in our lives in many different ways, but you are never alone. God is always with you. The hardest things to remember when facing challenges is to keep your faith, acceptance, positive attitude, your family close, forgive, and do not forget to laugh.
Tonight you will hear stories of survivors and the challenges they faced through their personal journeys. With every challenge God gives us, we learn from it how to help others.
Prayer of Saint Francis
Lord make me an instrument of your peace
Where there is hatred let me sow love
Where there is injury, pardon
Where there is doubt, faith
Where there is despair, hope
Where there is darkness, light
And where there is sadness, joy
O divine master grant that I may
not so much seek to be consoled as to console
to be understood as to understand
To be loved as to love
For it is in giving that we receive
it is in pardoning that we are pardoned
And it's in dying that we are born to eternal life
Amen
Cheryl Hove
My name is Cheryl Hove. I am a parishioner at St. Vincent de Paul. My husband and I have been married 24 years and have 3 children.
Thru grace and THE GIFT of prayer, God speaks to us in the stillness of our hearts and shows us his hand, his divine providence at work in our lives. Through the good and bad, ups and downs, he is there. Desiring us always, to lean into HIM for guidance, comfort, hope & peace.
I will be sharing a story, a personal witness to God's faithfulness. It is a prayer journey over several years, where God moved and ultimately moved me to see his hand at work in the bigger tapestry he was creating in my life. Had I not been turning to him and praying, the sadness and sorrow of events that occurred would have been overwhelming and despairing. But, because he calls everyone of us, by name…individually, in his own unique way…we are given the opportunity—"The GIFT" to know him, his goodness and to have HOPE in HIM always.
And then the greater gift — of God using our lives for his glory.
JESUS is the GIFT— the gift of faith. Often times "gifts" come in packages we don't want. They don't feel like gifts at all, but that is where the gift of grace comes in to play and the gift of our free will to choose HIM amidst it all.
Mary McCawley
My children: an engineer, a meteorologist, and a saint.
I am Mary J McCawley, Landscape Architect. Curator of the St. Robert's Statewide Arboretum and designer of our Prayer Garden and outdoor Stations of the Cross. My husband, Mike, is the arboretum laborer.
We have been members of the Parish since 1991. Our sons Kyle and Andrew attended St Robert's School and graduated from Prep. Our daughter, Megan, attended Marian for two years. She was buried from St. Roberts in 2006. It was the first funeral in the newly renovated Church. Fr. Don Shane remembers it as the largest funeral he had officiated. I remember little of it. Megan's family continues to attend St. Robert's Parish today.
A widow is a woman who has lost her spouse by death. A widower is a husband that has lost his spouse by death. An orphan is a child that has lost his/her parents by death. The word orphan comes from the Greek word, orphanos, meaning bereaved. There is no word for a parent losing a child. What word could possibly describe your child dying before your own passing?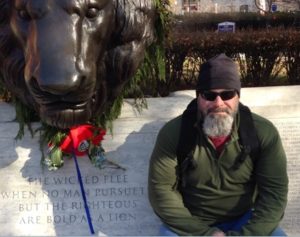 Paul Milone
My wife, Catherine, and I have been married for 22 years. We have one daughter, Isabella, who is 15 years old. Our home parish is Our Lady of the Holy Rosary in Glenwood, Iowa.
My talk tonight will be about living a life without God. I thought I was successful both at home and at work. I thought I was in control working as a SWAT cop, as an Undercover cop and running into some amazing events. I was not.
However, after some tragic events at work, I soon found myself hitting all-time lows and wondering why things were so out of control.
This will be a story about losing a partner in the line of duty and almost losing my wife. This is THE story of how God reached down and pulled me out of the mired clay in the middle of a battle for self control. God then put a new song on my lips, a hymn to our God – Psalm 40
Jake Marousek
My name is Jake Marousek, I grew up in Omaha, Nebraska and went to St. Robert Bellarmine for elementary and middle school. I went to Omaha Burke High School. In college, I played football and ran track at University of South Dakota, then University of Nebraska at Omaha. At UNO. I met the love of my life, my wife, Andrea Marousek.
We were married in Mexico on a destination wedding on June 13, 2014. Almost two years later, Andrea gave birth to a beautiful healthy baby girl named Vivianne.

The past year has been a struggle. Our daughter has been through abuse and many, many medical procedures. She is a fighter. Through all of the struggles, our focus has been on our faith, staying positive, and always finding HOPE.
Past Speakers
Joseph Floersch
Five years ago Joseph shared about the complications after his childhood bout with cancer. Today he is a medic and Private First Class soldier in the United States Army. He is stationed in Hawaii.
Courtni Kopietz
Since speaking at the inaugural Night of Hope event in 2013, I graduated with my Master's in Communication from UNC-Chapel Hill with an emphasis on medical and science journalism. I now work at a non-profit biomedical research institute in Madison, Wisconsin, where I am essentially the in-house science storyteller. I am a videographer, writer, photographer, and social media manager, working through these mediums to translate research advances at the Morgridge Institute for Research into science stories for the general public.
In 2016, I celebrated my anniversary of being cancer-free by hiking 120+ miles with my dad through Portugal and Spain and raising more than $10K to benefit biomedical research, an endeavor I hope to repeat in the near future. There's so much more to accomplish and more adventures to be had, so I know I'll continue to set goals and keep moving forward.
Jane Sibilia
November 20th was the 20th anniversary since my breast cancer diagnosis. Happy birthday to me! I am cancer free and healthy. I am still teaching second grade. I enjoy traveling but most of all spending time with my family— especially my six grandchildren.
LesLee Hacker
I spoke the first year of a Night Of Hope. Our daughter, Lauren, had been diagnosed on 12/12/12 of a very aggressive form of leukemia and had spent close to 6 months in the hospital battling for her life. Our faith grew and we hung on to each other, although we knew that Lauren had a chance that her leukemia would return. We spent the next 3 years building our lives again. Unfortunately, the night of Lolo's 14th birthday party, we learned that her leukemia had returned. She faced a worse prognosis and went back through treatment with worse odds and more critically ill than she had been before.
By the mercy of God, Lolo is now a happy and healthy 15 year old after fighting not once, but twice from a cancer that has the worst prognosis of any childhood cancer group. Therefore, our family began a non-profit called Lolo's Angels, Inc. Our son, Jonathan, graduated from high school and is a freshman at University of Utah. Phil and I have everything we have ever wanted in life. Pediatric AML is brutal and we know that it may come back. We hope to make a difference so that more children can survive and receive better treatment. Through faith and community we have found that we have no control at all over what happens in life, but we do have control how we respond to it. When the fear of the future returns, I pray for God to help me stay in the present and I remember I am the daughter of a military aviator and the wife of one too!
Fate whispered to the warrior…..you cannot weather the storm. The warrior whispered back….I am the storm!
Cameron Killen
I am halfway through my residency in orthopedics at Loyola in Chicago. I enjoy it and feel fulfilled and blessed to have found something that brings me professional and personal growth and satisfaction.
I am well aware that I would not be where I am today without the many acts, prayers, encouraging words and the HOPES of so many, some whom I know well and others who I will never know. I can only offer my heartfelt thanks and promise that I will give my all to become the best doctor, friend, man, and person I can be. As my maternal grandma would say… be still, and take it all in. I wish you much!
Susie Dotson
We are thankful that Lily will celebrate four years of being cancer free in January 2018. Lily is 11 and is in 5th grade. She is active in student council, dance, music, and art. Lily's brother Noah is 13 and still the nicest brother in the world. They have the best relationship.
Lily was a featured dancer in Dancing with the Omaha Stars last year to help raise funds for cancer families, Angels Among Us. Lily also helps me run for Women of the Year for Leukemia and Lymphoma Society. Our goal is to raise $50,000 to open a new cancer study in Lily's name. We also continue to lead the most successful Elementary blood drive in the Nation in Lily's honor. David and Noah always help rally behind our efforts to pay forward all of our blessings!
Judy Cortese
"If you are a parent of an addict….never stop loving them ….always have hope….learn to let go…. And then hold on for dear life." (Someone's Child) These past three years have been a perpetual roller coaster ride of emotions. I have jumped out of bed with an adrenaline rush and drove franticly to the emergency room at 2 a.m. to watch Jake vomit after he overdosed on another vile substance. I have helped him carry boxes of his belongings out of yet another treatment facility in the pouring rain on my birthday without knowing where his pillow would land that evening. I have fought back tears as I watched Jake inhale a sandwich which I gave him to feed his sleep deprived emaciated body, and I have walked through a metal detector and submitted to a background check to have a sixty-minute visit with my son through a video screen, longing to hug him.
Through these times of pain and uncertainty, there have been glimpses of hope. Jake celebrated sporadic periods of sobriety, and we have had many heart to heart talks about his dreams and goals. One memory I keep close to my heart was when a beautiful bouquet of purple flowers and a heartfelt card were on my desk when I walked into work. Jake had ridden the bus early in the morning to deliver my surprise. The quote on the card read, "Give hope a place in the heart, and it will bloom." I cannot "fix" Jake's addiction, but I will continue to love him unconditionally, offer hope and, most importantly, pray. This roller coaster ride will not end any time soon, but I will continue to hold on for dear life to our God who promises to give us hope and a future.
Debbie Marcil
Life after divorce was not always easy, but God has his hands woven throughout the healing. At the time of my talk, I was newly married, and still blissfully married to the kindest gentleman. My career changed and I am now the Pastoral Associate at St. Robert Bellarmine. Both my boys are mostly grown. My oldest lives in Denver and my youngest is a freshman in college. We are happily adjusting to our new role as "empty nesters".
Erica Bryant
Samuel, my child with cystic fibrosis, is now 10 years old. He is doing very well health-wise and otherwise. Sam is a kind, compassionate boy who thrives by keeping his family and friends close. He is active with school, sports and robotics, and he enjoys reading and be-ing outside with his friends. We have a busy family with six very different personalities, but keeping Sam well may be our most common thread. He has influenced each of our personalities greatly and it is apparent in how each of my children navigate through life. The years ahead are uncertain for Sam, as CF is a progressive illness, but we could not be more thankful for the kind-hearted boy who we get to have as our very own. With our faith and supportive family and friends, we know that this journey of ours is a special one.
Brandi Preston
After losing my mom in 2005, I bouned around from home-to-home, school-to-school, and eventually ending up at Boys Town. I felt like any light or hope my life once had was gone. Every year I rebounded a little, but struggled to see what my value in life was and what my purpose suppose to be.
2014 was an incredibly empowering year, it was my "reset". I kicked off the year by having a prophylactic, bilateral mastectomy at the age of 22, with a 10 month old at home. The next several months I went through the reconstruction process – and completed my reconstruction at the end of June. This surgery reduced my lifetime risk of breast cancer from 87% to less than 2%. I no longer feared losing my life to breast cancer and I no longer worried about who would raise my son if I wasn't here.
Three years later, I am fully recovered from my surgery. My son, Peyton is now 4 years old and is the light of my life. I started working for Omaha Mayor Jean Stothert as Assistant Communications Director in 2015. That same year, I launched a nonprofit organization, the Kamie K Preston Hereditary Cancer Foundation, in honor and memory of my mother. The organization covers the cost of cancer genetic testing entirely for at-risk families. We have provided cancer genetic testing to over 100 patients. We have educated hundreds of healthcare providers about hereditary cancer red flags, cancer risk assessment, and high risk patient management. And we have provided support to thousands of high risk patients through out the United States, Canada, and the UK. Our efforts have even been recognized nationally by one of America's top pharmaceutical magazines, PM360.
Honestly, when I launched our organization, I was constantly told how hard running a nonprofit would be, and questioned whether or not it would be worth it. Time consuming, yes, a lot of work, yes. Worth it? Without question. I truly believe it's because this is God's purpose for me. When you give your faith up to the Lord and you ask Him to light and guide the path, amazing things happen.
Jennifer Taute
As of July 11, 2017, our son Tyler has been clean for 5 years! Dan and I are so very thankful to God, our friends and our family for being by our side through some of the toughest years of our lives. Tyler proposed to his girlfriend of three years, Lauran Conley in May and they will be married June 16, 2017, here at St. Roberts. We are very excited to have Lauran be an official part of the Taute family. This road of addiction was not easy and at times extremely scary. But, worth it to see Tyler in such a happy and healthy place. We want families to know there is light at the end of the tunnel to those who are battling addiction. What we learned from all of this is to never give up hope. We are the lucky ones.
Vanessa Hamill Kirkpatrick
At Night of Hope in December 2015 I was walking through my season of life as a widowed, single mother of two. I'll admit, while I was trusting God's will for my life, I was hoping and praying His will included a husband for me, and a father for my children. Five months after I spoke at Night of Hope, God introduced me to my future husband.
Brian is the Godly man that I had been praying for. As my late husband Greg would tell me, "I love God more than I love you, and I love you more than I love myself." This is the type of marriage we strive for, a Christ centered marriage always looking to God first for guidance in our relationship. And I am thankful to Greg, for proving me the wisdom and laying down principles I would rely on after he was gone. This was what God had in store for me. Another chance to be a wife. While I was learning to be that Godly wife that Greg deserved, I never had a chance to live it out. God is granting me the gift to do it better this time, to fully submit to His will, to mold me and shape me into a new creation. I'm so thankful for God's ability to redeem our broken places, to refine us, to make us new. I'm thankful for God's amazing grace.
Thank you God, for my amazing husband, Brian, for my two wonderful children, Taryn and Ian, and my two awesome bonus kids, Ethan and Ella. As we walk through trials in this life (especially in the midst of blending families) we keep our eyes on God together. We have seen Him move mountains and we have faith that he will do it again, always for our good. I will be 5 years sober in February 2018.
Jordan Stevens
Macy Stevens is a 19-year old college sophomore at the University of Nebraska at Lincoln. She is currently majoring in Business Administration with plans someday to open and operate her own pet spa and grooming center. Her health since her transplant has been good and she continues to take daily medications for anti-rejection. This past summer she enjoyed a two-week European vacation that took her to Rome, France and Spain and where she fell in love with the Malfi Coast near Napoli and plans to return as soon as she can. She spends her days studying, hanging out with friends and running with the hopes to complete a half marathon someday.
Jeff Kopietz
My Split Second Decision presentation was given in December 2015 and since then I have continued on as a member of the Fugitive Squad, SWAT Team and the Kopietz family. Why change the things you love?
I try to look at life in a more positive way every day and thank God often for all the blessings he provides me and my family. Knowing that there is no guarantee I will see the next day helps me stay focused at enjoying today and not worrying about tomorrow.
Don't cheat yourself. Work hard, play harder and enjoy every day!
Kristy Gustafson
With each year that passes my heart keeps healing little by little. The broken pieces that were once all scattered on the floor, have slowly become whole again. It's the people in my life and the experiences I've had that helped put the broken pieces back together.
I've come to understand that life happens. It doesn't always make sense. We have to meet life on life's terms and not lose hope in the midst of it. Keeping God ever so close as I lean on Him. Allowing him to hold me on those days where the broken pieces seem to be scattered all over the floor again.
There's a slogan in Al-Anon that says BE WHERE YOUR HANDS ARE. To be present wherever I am no matter what I may be doing. To not look to far back or to far ahead. That can lead to sadness or fear and anxiety. Those are not of God. He wants us to be present and allow the day to unfold knowing he's holding us through it all.
I still am getting use to being divorced. It's a word I really never thought would be part of my personal life. But it is just that…a word. It's not who I am. I will say quite honestly that word and all the pain that comes with it, has brought me to my knees. I've really had to just surrender.
Not letting the shame, embarrassment, loneliness and deep sorrow get stuck within me. When HOPE remains there's always light in the darkness. The light helps us see all the many gifts that have come out of our pain and sadness. We appreciate the life we have been so blessed with because of and in spite of what's happened.
I believe that we can try to imagine the way our life may be. But God our Father and Mary our Mother see our lives. People have free will and will do what there going to do.
If we can keep our eyes looking up in the midst of the sad-ness and trust that we are right where we are meant to be.
Our lives will be blessed beyond measure.
Bruce Bowers
Brenda Bowers was diagnosed with breast cancer on August 26, 2013. This was a time of extreme anxiety for her, for me her husband, and for our children as well. We went to the scriptures and claimed 1 Peter 5:7 as truth; "Cast all your anxiety on Him because He cares for you." We gave it to the Lord and asked Him to use this illness for His glory, which He has most certainly done. As of Sept. 9, 2017, Brenda is four years cancer free. We continue to make adjustments involving diet and exercise and we are both in the best health of our lives. Praise Him from whom ALL blessings flow.
Jimmy Owens
In the year since the 2016 Night of Hope, Gerard has done well. He has been an active, mostly normal toddler in 2017 – so active that he broke his leg on the playground this August! He loves to pretend to be a tiger or bear and chase his big sister, Felicity, around the house.
Since January of 2017, Gerard has been in a "maintenance" phase of chemotherapy. The doctors can no longer detect Leukemia cells in his body, but they continue treatment for about 30 months to prevent relapse. He will have chemotherapy treatments until June 2019.
Dave Carlson
Just because you have been through a struggle in your life, and can finally take a breath and reflect, doesn't mean the struggles are over. Reminding people of God's Love and Grace, are in reality a reminder to yourself.
It's almost as if God is saying " Remember this, because your going to need it". Nothing that you have been through shall be wasted. Our own struggles prepare us to come alongside each other, and reflect the Love of God.
Tammi Winchester
Last year I shared my story on domestic violence. I don't have a lot to update other than continuing to get out there with my vulnerabilities and share my story with others and the message of hope! As Brene Brown says: "If we can share our story with someone who responds with empathy and understanding shame can't survive. Loving ourselves through the process of owning our story is the bravest thing we'll ever do."
Laughter, song, and dance create emotional and spiritual connection: they remind us of the one thing that truly matters when we a searching for comfort, celebration. Inspiration or healing: WE ARE NOT ALONE!"
Sponsored By
Catch Intelligence
Special Thank You
To all volunteers who have made this event successful. Your time and talents are greatly appreciated.
Thank you to our website manager, Dominick Mariniello, www.anightofhopeomaha.com
Copyright © 2021.
All rights reserved.